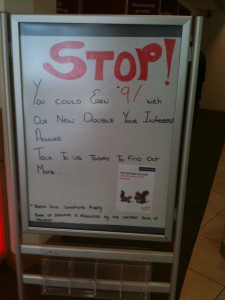 I was in my local Bank of Ireland during the week when I spotted a fantastic looking offer: a savings account offering 9% interest! Wow! Sounds great! So I made enquires at the customer service desk.
Turned out, the 9% interest is earned over a two year term, not per annum. I would earn 3% interest in year one, at the end of which I would have an option to withdraw some/all of my money, and what was left on deposit would roll over to a 6% rate in year two. OK – so was it still a good deal?
Currently, the best lump sum deposit rate available is ~3.1% AER, and the best 1 year fixed term deposit rate is 3.7% AER.
AER stands for Annual Equivalent Rate and is a way of quoting interest rates for accounts of different terms, or that pay interest at different intervals (monthly, quarterly, annually etc.), to make them directly comparable.
So back to BoI's 3% + 6%. Assuming I could commit to leaving my full lump sum on deposit with BoI for 2 years, what would the AER be?
Well, at the end of year one, I'd have 103% of my original investment; and at the end of year two I'd have 106% of the account value at the end of year one. So my total at the end of two years would be 109.2% of the invested sum – making the interest slightly more than the 9% on the poster.
If I take the square root of that total, I get just shy of 104.5%, so an AER of ~4.5% annually.
√(1.03×1.06)=1.04489
That's still better than the current rates available, so I'm back to thinking it sounds like a good deal.
What it comes down to next is whether I believe I can afford to leave my money on deposit for 2 years untouched. If not, then I'll be missing out on 0.7% elsewhere in year one.
But if I go with the (relatively) instant gratification of 3.7% now, what kind of rate will I be looking for in one year's time to match what I would've made on the BoI deal?
1.092/1.037=1.053
That means I'll want to find an account offering 5.3% in one year's time to earn the same interest as if I'd taken up BoI's current offer. That's an increase of 1.6% on the best 1 year fixed term deposit currently available – quite a jump. But then, the ECB has started raising interest rates… Hmmm…
So, there we go, on Grand National day, I'm left with a gamble – but at least I'll be guaranteed some return whichever way I bet on this one. Maybe I'll toss a coin…