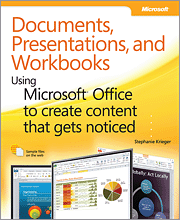 I recently joined the O'Reilly Blogger Review Program, and the first book I downloaded to review was this one: Documents, Presentations, and Workbooks: Using Microsoft Office to Create Content That Gets Noticed by Stephanie Krieger. For the most part, I really enjoyed it – it's a huge book with a vast amount of useful information, and it's made me more interested in working with Office than I have been in most of the past decade.
One particularly nice feature of the book is that it's written to cover both Microsoft Office 2010 on Windows and 2011 on Mac, each of which does things slightly differently. Each version also has some special platform-specific features you won't get in the other one, so it's useful to know when you can achieve something interesting by switching platforms (if you have that option). I think this may be the first book on Office I've read that's dual platform – I hope it won't be the last.
Another thing that appealed to me, as a Tech Writer, was that the author included plenty of pointers on documentation best practices, rather than making it all about the tools and features. I hate when tool advocates recommend doing something really fancy, just because you can, rather than because it adds anything to the doc.
A top tip from the author is her recommendation that if something is too hard to achieve in the software, maybe you shouldn't be doing it. She advises to investigate whether there's a more straightforward way to achieve the same thing, and to undo and start over when things get too complicated. "Always use the simplest option for any task." Wise advice. Especially if you're producing a document that will be maintained in the long term. She also goes into explaining how the software actually manages a document managing formats, objects and stories. Knowing all this is a great advantage when deciding how to structure a document and understand how and why Word does what it does to the content later.
She also has advice on identifying the most appropriate tool for the job, depending on what content you want to present (including when PowerPoint might be the best choice for producing a book, rather than Word), how to transfer/re-use data between programs (and from 3rd party programs) effectively, how to reinforce style and brand, and how to present information in the way that will maximize its value to the intended audience. It's not all "the tool lets you do X, so you should do X", it's more "the tool lets you do X, but you'd be mad to do that instead of Y, which is more straightforward and logical."
There are plenty of practical tips on using the tools too. Here are just a few of my favourites, ranging from trivial to less trivial:
Customizing existing ribbons, or better yet creating your own custom ones.
Knowing that the undo cache is preserved for each Excel/PowerPoint 2010 document you're working on when you save, so you can resume undo-ing next time you open. This is a really nice feature, and I wish every product included it.
Using SkyDrive (or SharePoint) and Office Web Apps for remote access and to share projects with multiple authors/editors. (If multiple authors work in parallel, the area each author is currently working on is blocked for other authors.) Potentially useful, though I found SkyDrive a bit flaky when trying it out. I'll certainly use it again, though, for non-critical stuff.
Usefully, the author lists what features will and won't work when editing different file types using Web Apps, which could save on a lot of head scratching and frustration.
Using Broadcast Slide Show to deliver a presentation over the web.
Using Backstage view to check what hidden/personal information you're sending out in your docs.
Applying and customizing themes to reinforce branding across documents.
Using Picture Tools to manipulate images in situ instead of editing them in a graphics package first. There are a lot of nice effects and tools available.
Recovering earlier versions of a document, or even – get this – documents you closed without saving! I love this!
There were only two things about this book that I didn't like, and the first is half-praise, half-criticism:
I found out about so many Office features I'd not used before, and that I just had to try out right away, that it took me forever to get through the book. In fact, at the time of writing this review, I have to admit I'm still not done.
For the most part, I read the book on a Kindle, which wasn't an ideal format. It was frustrating to read a book on good presentation which wasn't ideally presented itself. I've found this to be a generic problem with technical texts, though. Graphics were indistinct, tables ran outside the screen area, and notes took up sufficient screen space that they distracted from the flow of the main text. It was also difficult to dip in to the text and pick out interesting items to look at in isolation.
The PDF is much prettier, and in traditional print I'm reckon it would've been a quicker, easier read.
All in all, it's a good read, and worth a look. While it wouldn't persuade me to discard FrameMaker as my tool of choice for technical documentation, I would feel happier and more confident using Office products for smaller projects and presentations now.
You can find out more about the book and order it direct from O'Reilly here.