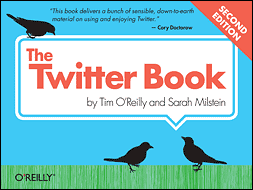 I chose this book to review as part of the O'Reilly Blogger Review Program cos it looked lightweight and cute. Pretty pictures abound, and the Introduction is an ideal response to the questions of "So, what is this Twitter thing anyway, and why would you be bothered with it?"
Once it gets going, though, there's plenty of meat in this volume. I've been on Twitter for a few years now and manage a selection of personal and professional feeds, but I learned a lot from this book – both about Twitter itself and the various 3rd party products that enhance its usefulness.
At the trivial end of the scale, I've always assumed that HT and MT were typos of RT, but no, they actually mean something: HT is a "hat tip", MT is a "modified tweet".
At the pro-end, I discovered the TweetBackUp tool, which backs up your tweets for free; Topsy, which allows you to search for and track tweets linking to a particular website or page; Listorious, which provides a directory of Twitter accounts by theme; and a multitude of other useful tools and resources. If you're after a product that will do X for your Twitter experience, chances are there's at least one reviewed in here.
If you're seriously into social media and Twitter in particular, this book is a must have.
You can find out more about the book and order it direct from O'Reilly here.