It's been quiet around here lately. Between work, Easter holidays for the kids and a training course for me, there's not been much time for blogging. To get things rolling again, today's post is a summary of the presentation I gave as part of the assessment for the Fetac Train the Trainer course I did a few weekends ago.
First off: deal sites – what are they? A relatively new phenomenon here in Ireland, deal sites allow individuals to club together on a bulk order of goods or services at a discount rate. For example, a vendor might say: if 100 people who are interested in buying X from me, I'll give them all 50% off the standard price. There may be minimum or maximum limits on a deal: for example, there are only fifty of X available, or the deal's not on unless there's at least 20 people going to buy.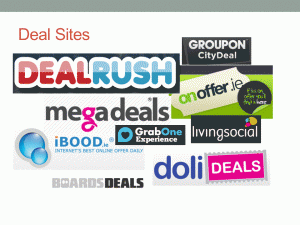 Where only a couple of years ago there were none of these sites in Ireland, now there are a multitude. And most don't even limit themselves to one deal a day, they'll list loads. That's a lot of bargains to be had, but equally, a lot of money to spend or mis-spend.
Some sites specialise in deals for a particular demographic (for example, Dublin only), or of a specific nature (for example, tech only); others will do anything that's going. If you can identify the site(s) of interest to you, you'll be able to tune out some of the noise and only hear about deals that are relevant. This will remove some of the temptation, and hopefully result in you nabbing a few real bargains.
Identifying Bargains
So, how do you tell if a deal is really a bargain?
First off: Is the deal offering something you actually want/need? Has it been on your wish list for a while, or were you completely unaware it even existed till you saw the deal? If you don't actually want or need the deal, then no matter what the price/savings, it's not a bargain.

Will you be able to take advantage of the deal? Are there time restrictions on when it can be redeemed, and if so, do they suit you? Cheap cinema tickets for Tuesday matinees only would suit some people, but be useless to others. Do you have to travel to redeem a voucher, for example, a cheap massage on the other side of the city, where you'll spend an hour commuting each way? If you don't drive and public transport isn't an option, maybe you'll need to book a taxi at twice the cost of the saving you're making?

Is the product/service "real"? Services in particular can be "made up" for the purposes of a deal. In itself, that's not a problem. For example, a spa may offer a one hour beauty package with a massage, mini facial and mini manicure at a discount rate, but such a package doesn't exist on their standard treatment list. It may still be a good deal, but the quoted "discount" has been invented for the purposes of the ad, and you should be aware of that. Cheap goods may be from a discontinued or soon-to-be discontinued product range, and you'll never be able to get a spare part. Do your research and find out whether the product or service advertised exists beyond the deal site.

Is the quoted "full price" accurate? I've seen unscrupulous vendors lie to the deal site and the public about the "original " price for goods – temporarily doubling the cost in order to then offer a 50% discount (or less!). Again – search engines are your friend here. Check what full price should be, with the vendor and elsewhere, and decide whether the discount advertised is genuine.

Product/provider reputation? Don't accept what the ad tells you about how wonderful something is – ask around, use a search engine, find out whether people have been happy with the product/service in the past, and if a substantial number of reviews tell you to avoid, there's probably a good reason!
Nabbing a Deal
Once you've determined that an advertised deal is indeed a genuine bargain for you, then you need to check when the deal has to be bought: Today? This week? Before the 10 items on offer have been snapped up? Some deals are redeemed automatically as soon as the deal ends, in other cases, you'll need to contact the vendor and place an order or make an appointment. Make sure you know which you're dealing with. If there's a restriction on when the deal can be redeemed, make sure you avail of it in the designated timeframe, otherwise you've wasted your money instead of making the most of it!
Changing your Mind
In the EU, you're legally entitled to change your mind about any online purchase within 7 days for any or no reason. This is particularly useful to be aware of if you spot a deal too close to its expiration to do your background research (buy now, change your mind tomorrow after you've spent some time with a search engine). If also means you're covered if you buy a voucher for a service and discover the provider can't offer the service on the date(s) you want (a holiday that's booked out for the only week you and your sister can travel together), or if you find that you and your 8 siblings all decided to get your dad the exact same nifty tech gadget for his birthday after seeing an amazing deal.
For goods, if they're not fit for purpose (broken, damaged, just plain useless), you're always entitled to ask for refund, repair or replacement as applicable. The fact that they were sold through a deal site makes no difference – unless the deal specifically advertised them as faulty, but I've not seen a deal like that so far!
And finally, most/all of these sites have a customer support service who may be able to do something for you even if neither of the two options above apply. I bought a voucher for services a while back, and after a month of no response from the vendor whether I made contact by online form (as requested), email, or phone, I decided I wouldn't want to do business with them even if I could make contact. When I told my story, the deal site support immediately offered me site credit as compensation, which I was happy to take.
So – there you have it, my top tips on finding bargains, nabbing bargains, and changing your mind. Get out there bargain hunters, and save some money!