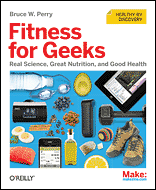 My latest choice of book as part of the O'Reilly Blogger Review Program was Fitness for Geeks by Bruce W Perry.
I was hoping for something light, fun and filled with recommendations of gadgets and apps that might entertain and motivate me to exercise. This book is not that. It is absolutely not a light or an easy read – it's a serious, detailed, in-depth treatment.
If you're into facts and figures, and evidence-based analysis and opinion on dietary fads, exercise, metabolism and the like, it's yer only man. I'm too much of a light-weight, I'm afraid.
There are gadget and app reviews, but they're almost secondary to the main focus of the text. The author does make recommendations of best uses of the tools available, and points to a number of excellent websites from which you can get more in depth information on the topics he covers.
Perry looks in some detail at exactly what diet and exercise do to the human body, what works and what doesn't. There's lots of science and technicality. There are also lifestyle tips, interviews and case studies. It's a thorough treatment, but a bit too thorough for me: in places I found myself glazing over as things got more technical and detailed than I could digest.
I'd recommend this as a great reference text to have at hand to dip in and out of when you have specific queries and want detailed information rather than a one-liner: for example, why do we need certain vitamins, and what happens if you exceed the RDA – and for that matter, what is an RDA, and how does someone decide what it should be? But it's not a fast-paced, cover-to-cover motivational read, so if that's what you're after, look elsewhere.
You can find out more about the book and order it direct from O'Reilly here.